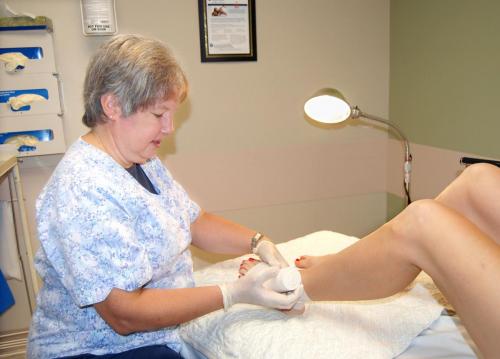 A Customized Treatment Plan
During the first appointment with Indiana Wound Care,  patients undergo a thorough diagnostic examination to identify the type of wound and any underlying causes. An individually tailored treatment plan is then developed and may include:
Debridement
Advanced wound care dressings
Negative Pressure Wound Therapy
Compression Therapy
Hyperbaric Oxygen Therapy
Prescriptive Growth Factors
Bio-engineered skin and Extra Cellular Matrix replacement therapy
Edema management
Non-invasive vascular assessment
Diagnoses typically referred to Indiana Wound Care include:
Diabetic foot ulcers
Chronic venous ulcers (leg ulcers)
Pressure ulcers (decubiti, bed sores)
Chronic osteomyelitis (bone infection)
Radiation-related tissue damage
Any ulcer/wound that persists for more than 6-weeks despite medical care
These wounds typically occur in persons suffering from:
Diabetes
Congestive heart failure
Stroke
Vascular disease
Cancer
Venous thrombosis
Trauma
Obesity
Collagen vascular diseases
Complications associated with surgery and spinal cord injuries
Renal failure and dialysis
Chronic obstructive pulmonary disease (COPD) and other lung diseases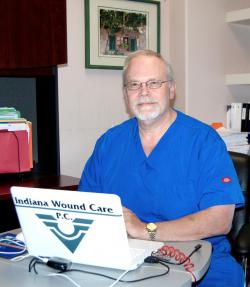 Treating Chronic Wounds
There are many different types of chronic wounds, or wounds that don't heal through conventional treatment methods. Some wounds are associated with complications from diabetes or other vascular-related disorders. Others can be caused by pressure (often referred to as bedsores) or trauma.
For chronic wound sufferers, the healing process can be long and frustrating. Indiana Wound Care uses the most up-to-date approaches to aid the healing process.